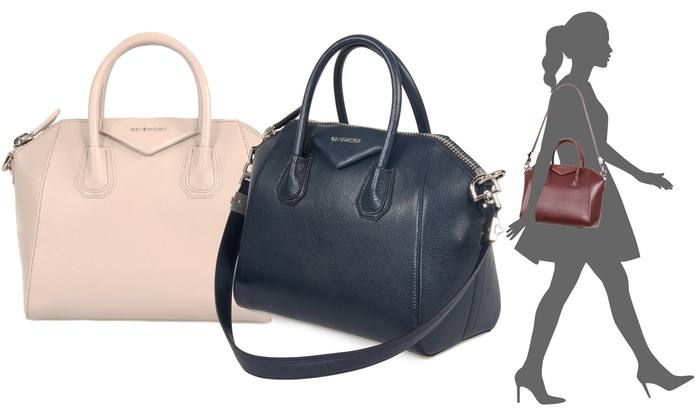 The Antigona comes in two leather types: calf skin (smooth leather) and goat skin (pebbled leather). I had the toughest time deciding between which leather and re-read every available thread on this topic on PurseForm. In the end I decided to go with the calf skin because the shine of the smooth leather highlights the geometric shape of the bag beautifully.
The calf skin leather is pretty thin but it is very hardy and shows zero signs of loosening its shape. However, because of its thinness, if you have an item inside the purse with a pointy corner, the slight poke against the leather will be visible on the outside. Also the bag is on the heavier side even without a lot of content in the bag. Although heavy bags are a turn off for me and is less practical, I still was unable to resist purchasing the bag due to its beautiful design and the quality.
Alternatively, the goat skin leather is softer to the touch. I think if you want the bag to retain its shape longer, go with calf skin. If you want the bag to eventually have the casual, slouchy look, go with goat skin. Durability wise, I think the two leathers are pretty much equal. Unfortunately the bag has not been around long enough to have real evidence of which leather is more durable.
The leather is all stitched and has no gluing (at least no visible glue). The quality of the leather is impeccable. My other bags are made of saffiano leather, which is not comparable but compared to the smooth leathers from other brand such as Chanel, Celine, YSL, etc., this smooth leather is much more scratch resistant and durable. When compared across my bags, Givenchy is the absolute top in terms of quality and build!
The calf leather (smooth skin) has light rose-gold hardware. I believe you can get the silver hardware on the goat skin (pebbled leather). I personally would have preferred the silver hardware but that was not an option on the smooth leather.
The zipper is another one of my favorite aspects of the bag (in terms of design). The design of the bag is very simple, so the large zipper is a standout. The quality of the zipper is also great and the zip is very smooth. However, the path of the zipper goes up, across then down due to the shape of the bag and with the top handle always sticking up, sometimes it is difficult to zip the bag with one hand. So functionality wise the zipper and bag design is not so great.